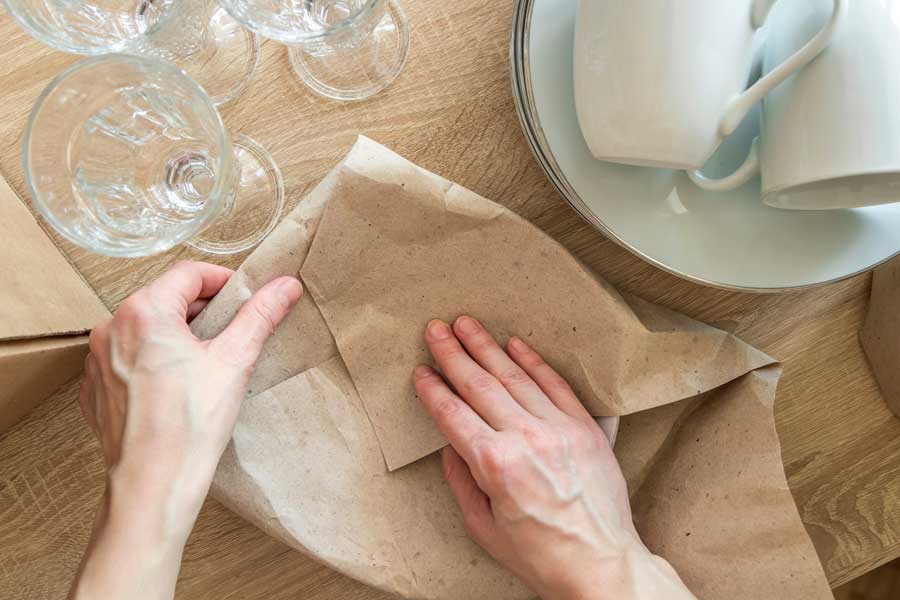 By Acme Homes 8-18-2022
Packing for a move can be daunting, especially when it comes to dishes. Dishes are delicate and can break easily when jostled around in a moving truck. But if you pack them into their boxes carefully, they can make it from point A to point B intact. Here are some tips on how to do just that.
Bowls and Plates
The best method is stacking two of a kind together in pairs. Plate on plate and bowl on bowl. Start by placing a square of packing paper down on the counter. Place a dish on top of it and fold one corner of the paper onto the dish. Then place the second dish on top of the other and wrap the remaining corners of paper over the set. Secure the paper with tape. Place the prepared stack of dishes on their side, horizontal in the box. Resist placing them flat in the box, as this can cause unnecessary stress to the dishes.
Glasses
Glasses and mugs can be tricky to pack. These ones are best to pack individually. Begin by placing a glass or mug diagonally on a corner of your packing paper. Then start to roll it towards the other end of the square. Tuck paper into the mouth of the glass as you go. Then secure the paper with tape. For stemware, follow the same procedure, only make sure that these kinds of glasses are placed in a cell box, or a box with dividers.
Pots and Pans
When moving on to pots, pans, and other containers, the most efficient way to do this is to nest smaller dishes in larger dishes. Begin by wrapping the largest dish in packing paper. Be sure to stuff the inside of the bowl with the paper. This will prevent the smaller dishes from moving and scratching the inside of the bigger dish. Continue this process until you have a fully nested bundle. Then secure the dishes with tape to discourage jostling.
Silverware and Utensils
For silverware, the quickest and most efficient way to pack them is by preparing them in bunches of six. Place one piece on a corner of packing paper and roll until it is covered, then place another piece on the paper and do the same. Continue this process until all six pieces are covered in paper and secure the bundle with tape. As for knives and sharp objects, it is safest to wrap these in paper first and then bubble wrap for extra cushion.
Of course, you cannot control every variable during a move, but if you use these tips to carefully pack your dishes, the odds of them arriving at their new home in one piece is high.
At Acme Home, we find great joy in helping families find their forever homes. If you are looking for yours, start your search here!